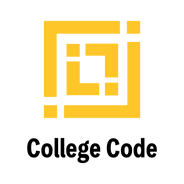 FREQUENTLY ASKED QUESTIONS
1. Does College Code only deliver services in-person?
​
No, we are passionate about meeting our partners where they are. We design our services for in-person or virtual delivery.
​
2. What types of organizations does College Code support?
​
We support organizations committed to talent development & retention, and advancing diversity, equity & inclusion. Our partners span the higher education, non-profit, and corporate sectors. You can learn more on our services HERE.
​
3. Does College Code works with individuals or only organizations?
​
We primarily work with organizations inclusive of higher education institutions, non-profits, agencies, and corporations. If you are interested in career coaching, consider The Muse.
​
4. How does College Code define the students & early career professionals they serve?
​
We primarily serve students at the pre-college/college level and early career professionals, with less than 5 years of professional experience.
​
5. Does the College Code Founder speak at events?
​
Yes! Chelsea C. Williams is passionate about sharing the College Code story and supporting talent development & retention solutions for diverse populations. Please fill out her speaker inquiry form HERE.
​
6. Does College Code place students & early career professionals in entry level roles?
​
College Code is not a recruitment firm. We do however, send out email blasts that include a list of job openings shared through our corporate partners. Visit our Resources page to learn more.
​
7. Does College Code offer free events, open to the public?
​
We periodically host free events, open the the public. You can preview a list of our upcoming events HERE.
​
8. How does College Code serve the community?
​
Each year, College Code delivers several pro-bono services to non-profits and community based organizations (CBOs). We also award annual scholarships & educational grants.
​
Students & recent graduates interested in educational grants should subscribe to our Jumpstart to Career Webinar Series. The series will launch May 2020 and be the primary outlet for grant consideration.
​
9. Is College Code hiring?
​
We are always accepting applications from talented professionals. You can learn more on our fall 2020 openings HERE.
Download Our 1-Pager For More Information On College Code